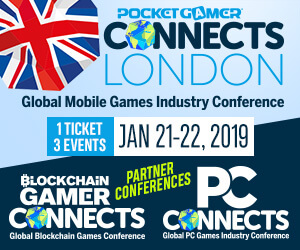 PG Connects is a business event dedicated to mobile games. It's hosted by Pocket Gamer company and it's one of the most popular events in the mobile games industry. 2019 will be the 5th year of PG Connects, but it already became the biggest games event in the UK. The 2019 edition of the conference will feature over 900 companies with over 2500 delegates.
There will also be more than 250 speakers from 55 countries, so it's really an international super-conference of the mobile world. Gold sponsors of this year's PG Connects are Facebook gaming, Space Ape, Nutaku, App Annie, Mobvista, AppsFlyer, Mintegral, Play Finland and Unity.
Where and when is PG Connects 2019?
PG Connects has 3 editions throughout the year: London, San Francisco, and Helsinki, with London being the most popular and most visited. In 2019, PG Connects London will be held January 21-22 in "The Brewery" on 52 Chiswell Street.
Event sections
PG Connects London is divided into 16 tracks:
Influencer Insight – here, you can hear from popular YouTubers, Twitchers and other influencers that are changing the world of media;
Live Ops Landscape – a track intended for explaining Live Ops approaches and explanations;
Developer Toolkit – a track for the tech crowd, where technical stuff like game design, UX design, narrative are discussed;
eSports Academy – gathers e-sports games developers and teams and hosts talk about the opportunities in competitive eSports gaming;
Monetiser – one of the most interesting and popular tracks on PG Connects, where you can hear about mobile advertising and other approaches to monetisation;
The Growth Track – growth is the biggest problem of today's mobile games' business model. At the growth track, which will be introduced at the 2019 PG Connects event for the first time, you can gain valuable insight into techniques and strategies for user acquisition and retention;
The Indie Track – showcases smaller studios and presents discussions on how to survive the modern competitive system of mobile games development as a smaller indie studio;
Trade Trends – features stats, facts and figures into the latest trends of the mobile games development industry;
East Meets West – also a new track for 2019 which is expected to be very interesting and informative. Includes news and insights about the hottest Eastern markets (South-East Asia, Japan, China, Korea);
Game Changers (hypercasual & IM) – talks about new, disruptive trends in the mobile games industry; for 2019, that refers to one-click games and messenger platforms;
Game Changers (AI, Cloud) – another track where new technologies are discussed and explored;
Connects X – a track dedicated to exploring different platforms such as Switch, XR and PC;
Living games – useful tips and tricks about maintaining and growing your game post-launch;
Show me the money – useful info about raising capital from different sources, such as angel investors, publishers, governments and VCs;
The culture club – a track dedicated to company culture so better companies can lead to better game development;
Superstar sessions – one of the hottest tracks on PG Connects London 2019 – will include the most important names and the most innovative minds of the industry in an insightful discussion about the status quo and the future.
Why visit PG Connects 2019
In the press release made by the PG Connects PR team, you can see that they listed 10 ranked reasons to attend PG Connects 2019. The biggest ones are that it's the largest B2B mobile games show in the West, has hundreds of speakers who are top professionals from their industries and that there are more than 50 countries present on the conference. The main reasons are:
It guarantees media presence because the event is extensively covered on many platforms.
It includes specialist tracks if you want to hear about key trend in a specific industry.
It's focused on game creators; the organizers aim to maintain a balance between game developers and service companies.
It's a great way to reach and approach senior-ranking decision makers, which makes it a great platform to close deal and set up business cooperations.
There are also multiple pitch events where you can exhibit or hear about new games looking for investors.
Who May be Interested
Anyone in the gaming ecosystem will surely find PG Connects extremely useful and good for business – from one end, developers, to service companies, to the other end, investors.
If you're in the gambling industry, whether you are a casino game developer or an online casino, you can benefit from attending PG Connects. Casino games are evergreen and one of the most popular types of games at the PG event. If you want to add latest slot games to your casino website portfolio, you can invest in newly-developed games. On the other hand, if you are a casino game developer, you can have access to thousands of potential investors and representatives of trusted online casino sites.
2019 Events & Conferences You May Also Like
The European Summit
ICE London VOX