Caribbean Poker | Your How-to Guide to Playing Caribbean Stud Poker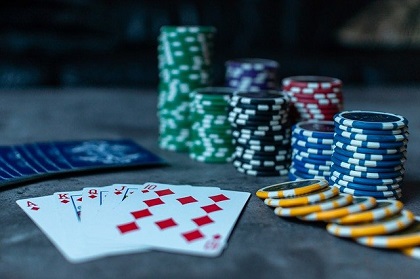 Caribbean Stud Poker is different from the poker that most people are accustomed to because it's played against the house and not other players. When you play this American casino game, you'll also find that you'll receive five cards immediately instead of after each round.
You should learn the rules of the game first before learning exactly how to play.
Getting to Know Caribbean Stud Poker Rules
A lot of players choose this game because while it has a lot of variations, it's also easy to learn and play. If you play five-card stud, you can quickly start playing Caribbean poker. The key rules, and they can change from one variation to the next slightly, include:
All players must ante to play a game
You play against a dealer
Each player is dealt five cards
Best five-card hand wins
An extra bet can be paid for to play the hand
Players that don't pay for the extra bet fold and lose their ante
Dealers must have an ace-king or higher to play
When dealers don't have the hand required to play, players are returned their ante & extra bet.
The basic rules are just the start of how to play. You always need to know about the strategies involved and also know the basic format of the game.
Hands and How to Win
You know that you have to beat the dealer, and the pay out can vary from one casino to the next. Generally, the best hands are as follows:
Royal Flush
Straight Flush
Four of a Kind
Full House
Flush
Straight
Three of a Kind
2 Pair
Pair
High Card
The pay out can range from 100 to 1 for a royal flush down to 1 to 1 for a pair or high card. Hand strength is important, so you'll need to learn what each hand means and how to recognize the hand that you have.
Progressive bets are also available, with the option to make more money. These bets are paid out based on your hand's strength. A royal flush, for example, would result in you winning 100% of the pot, while a flush is 10% of the pot.
You'll want to check with the casino's rules to be sure that you understand how they handle progressive jackpots. While these hands can lead to large pay outs, you're also taking a risk of losing more money if you lose.
We're going to cover tips and strategies below that can help you increase your chances of winning.
But before we cover these strategies, it's important to know what you're up against when sitting down to play Caribbean Stud Poker for the first time.
How to Play Caribbean Stud Poker
Whether you're playing online or at a physical location, the game and the way it's played is very similar. The steps that you'll follow during play include:
You sit at the table and pay an ante. All players will pay in, and the ante is added to the pot.
Players are dealt five cards – there's really no stud. The dealer will also deal themselves a card, with four cards dealt face-down and one dealt face-up.
If you want to play your hand, you'll have to pay an additional bet. You also have the option of folding if you don't want to play a hand. The bet is often twice the ante. Folding is an automatic loss.
Dealers may also fold if they don't have an ace-king or higher to play. If the dealer's hand isn't good enough, you'll receive your ante and bet back.
If the dealer does open, you'll have to beat the dealer's hand to win the game. You'll have to beat the hand to win or lose. Winners will have a return on both the bet they place and the ante that they paid to sit at the table.
The ante is always paid back in full, but you'll also receive a return on the bet that you make. Returns can be significantly higher than the bet you placed or low if you win based on only a high card.
Players also have the option to play automated versions of the game where there's no human interaction and the gameplay is done for you. A lot of people recommend starting with this version because it offers a nice introduction to the game and allows you to get a feel for how it's played.
Of course, you can play live versions, which require more skill and knowledge of the game.
4 Strategies When Playing Caribbean Poker
Players should go into every game with a strategy. You can devise your own strategy as you gain experience and really master stud poker rules, but until then, these strategies can help.
Forget About Worse Than Ace-King Hands. Dealers must have hands that are greater than ace-king to play the hand. If the dealer is playing a hand and you have worse than an ace-king, you can be confident that you'll lose.
Bet Ace-King When the Dealer's Face-up Cards are Lower. If the dealer's face-up cards are less than an ace-king, bet if one card of yours is the same as the dealer.
Play When You Have a Pair or Better. If you're holding a pair or better, play it. Pairs will beat high cards, so they're a great option to play.
Be Careful with Progressive Jackpots. When you bet on progressive jackpots, you can win big, but you need one of five hands to win. If you don't have one of these elusive hands, you lose.
A lot of new players will use charts to learn how to play and know when they should fold or call. You can use a chart, too, if you like.
Caribbean Stud Poker is a strategic game that allows players to enjoy a new twist on the original poker. The game may seem complicated originally, but as you play more often and learn the rules, you'll find the game is strategic and fun.